The Elanthian Empath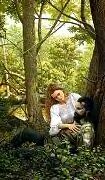 I chose this profession because it is who i am, I was born with the gift of healing and use it to benefit others. I love people and enjoy helping others. With the support of my Mentor, Lady Eterna, I have grown to be a very good Empath. I don't consider myself perfect in anyway, but i can proudly say i am very good at what i do and i do it with Tender loving care and compassion.
My sister, Jypta and my Ex-husband and still closest friend, Drizzsdt, tried to teach me the ways of a Warpath, but i am not cutout to be a huntress like that of my sister. In group hunts or when out hunting with my husband, Sabre, I lend a helping hand, Binding, unbalancing, and/or silencing critters, but thats about all i can do, except of course heal any wounds made during our hunts. I am also better with magics than i am with weapons.
My life is and always will be that of a pure healer.
Empath Profession
Official Documentation
The character generator offers you eight professions from which to choose. Your character's profession reflects the fact that your early training and apprenticeship have molded your thought patterns and thus affect your ability to develop certain skills and capabilities. Being a member of any one profession does not prevent you from developing all the available skills. In GemStone III, any character can develop any skill. However, your profession determines how quickly you can develop each skill, and how much effort, in the form of training points, this requires. GemStone III uses a skill-based system, modified by professional inclination, and thus represents one of the more realistic RPG systems.
The Three Spheres
The professions in GemStone III are divided into three spheres. The spheres are: Elemental, Spirit and Arms. There are professions whose domains are purely their own realms. Wizards, clerics, and empaths are pure spellusers. Fighters and thieves are pure arms users. There are also hybrid spellusers - the sorcerer combines some of the spell abilities of the wizard and cleric classes, along with its own. Finally, there are semi spellusers, those who combine skill at arms with some magical ability. Rangers and bards are semi spellusers. The pure professions are more able within their chosen realms, but the hybrids and semi spellusers tend to be more flexible.
Profession Stat Bonuses
For your chosen profession, two out of your ten stats are particularly important. Once you choose your profession, your stats in these two areas are automatically adjusted by +10.
Aeia
The first Empath was the Goddess Aeia. Imaera and other Arkati gave Aiea the gift of healing another's wounds by transferring them onto herself and then healing the wounds from her own body. She was also taught the art of herbs and how to properly use them.
What is an Empath?
There are two types of Empaths..
1. Pure Empath (Healer)-- A pure healer who rarely, if at all, hunts. Usually has a higher Casting Strength and a lower Attack Strength.
2. Warrior Empath (Warpath) -- Part healer, part hunter. Usually has a much higher Attack Strength and a mildly higher Defense Strength. More useful in sword swinging than casting or waving a wand. Although, If trained to, a warpath can be more effective in magics using a weapon.
Empaths are pure Spiritual spell users. They use their talents to transfer wounds from others to their own bodies. They then use their recuperative powers to heal themselves. They are rewarded by the gods and their patients as well for such selflessness. Their spells concentrate on self-healing, but they also have access to other spells more useful in combat. It is difficult, but not impossible for empaths to gain skill in weapons and armor, though heavier armor types may affect how well they cast spells.
Spiritual Sphere. Prime stats are Wisdom and Logic.
They draw their spells from the major and minor spirit spells as well as the Empath spell circle.
How can I become a Warpath?
Follow this link to learn how to become a Warpath
Glad Games
(excerpt from official simu documents)
It was late fall one year in the Landing when one of the locals approached the city council with an idea. His dream was to build an arena where the inhabitants for miles around could come and compete in Gladiatorial Games which could be held every few months. The idea struck a chord with everyone who heard about it and in just over a month a new structure stood a short way northwest from the city gates.
In addition to the local labor that went into its being built, the arena's construction was also aided by the Gods themselves. It was realized early on that no one would wish to compete in any competition in which they might actually die, not to mention many of the locals' disdain for the idea of attacking one of their friends and causing fatal harm. It was with this in mind that many of our local clerics enlisted the aid of the Gods and arranged for the Gods to interdict the death of any person in the Arena, and simply make them unconscious. No one need fear death while standing within any of the rooms of the Arena. (A side effect of this constant influence from the Gods of Goodness, is that many of those who serve the Undead may find some of their additional powers unusable within the confines of the Arena).
It's a good way to interact with others and hone your battle skills.
Creating your Empath
There are two methods of creating your character...Full Gen and Quick Gen. If you are not serious about creating your character you could simply choose quick gen, but i don't recommend it, especially If you decide to become a serious roleplayer after learning the ropes. Choose the Full gen and you will be able to choose your own stats, training, and features of your character. if you are not sure and have never played the game, thenperhaps a quick gen is your best bet, just to get a feel of things. Then once you think you understand, then reroll and create your character the way you wish to.
Create your character with a unique personality. Put yourself in the character's boots and become that character. How do you wish your character to be?
Before you even begin to roll up your Empath you must sit back and ask yourself these questions:
Do I have a background or History?
Some sort of background is a good start but you need not create an entire background history right away. Through your own creativity, It will develop within your time in the lands. Below are some ideas to give you thought..
Odd quirks, fears or habits?

Dignified or uneducated?

Family, Parents, siblings, children, a spouse?

Friendly, grumpy, insane, solemn, shy or bold?

Elegant Clothing, rags or simply comfortable and affordable?

Slang, an accent or clear speech, mute?

Likes and dislikes?

Where were you born?

How did you become an Empath?

What is the most important thing to an empath?
What is an appropriate name for my Character?
Your character will need a first and last name. Choose a name appropriate to a medieval fantasy world. If you choose names not acceptable, you will be transported to the Last Chance Inn and a GM will ask you to change your name, so make sure you choose wisely, especially if you spent hours on perfecting your character, background and stats.
You need to supply a family name (surname) for your character. If this character retires or dies permenantly, the new replacement character you generate can continue to build fame and renown for this family. In other words, If you can reroll your character and keep the first and last name or just the last name and continue your "family fame".
Links to sites for ideal names:
Medieval Names, Phantasy Names, Book of Names
Your Profession
You have chosen Empath as your profession so you must remember that +10 Stat increase when choosing the rest of your stats.
Profession Sphere of Power +10 Stat Increase
Empath Spiritual Wisdom and Logic
What race do I choose?
There are 8 races to choose from and it's up to you which race you wish to be. When choosing a race, you must take into consideration the profession you've chosen, in this case empath, and the stats of each race.
As an Empath, Wisdom (WI) and Logic (LO) gain +10 bonus. (max 100)
Race Selection
Table Race Bonus Modifiers
| | | | | | | | | | | | | |
| --- | --- | --- | --- | --- | --- | --- | --- | --- | --- | --- | --- | --- |
| xxxxxxxx | ST | RE | CH | WI | AU | CO | DE | DI | LO | IN | HPF | MaxHP |
| Human | +5 | 0 | 0 | 0 | 0 | 0 | 0 | 0 | +5 | +5 | 6 | 150 |
| Giantman | +15 | -5 | +5 | 0 | -5 | 10 | -5 | 0 | 0 | -5 | 7 | 200 |
| Half-Elf | 0 | +10 | +5 | 0 | 0 | 0 | +5 | -5 | 0 | 0 | 5 | 130 |
| Sylvankind | 0 | +5 | +5 | 0 | +5 | 0 | +5 | -5 | 0 | 0 | 5 | 130 |
| Dark Elf | 0 | +5 | -5 | +5 | +10 | -5 | +10 | -10 | 0 | +5 | 5 | 120 |
| Elf | -5 | +15 | +15 | 0 | +5 | 0 | +5 | -20 | 0 | 0 | 5 | 130 |
| Dwarf | +10 | -5 | -10 | 0 | -10 | +15 | 0 | +10 | +5 | 0 | 6 | 140 |
| Halfling | -20 | +10 | -15 | 0 | -5 | +10 | +15 | -5 | +5 | +10 | 4 | 100 |
Giantman/High Man -- Have a very good strength and are good for dragging others. They are naturally slow so maneuver attacks get them easier and they have a reflex problem causing lower defenses compared to an elf. Strength stat grows fast with them. (Giant: A humanlike being of enormous strength and stature.)
Human/Common Man -- Humans are the charmers. Average in every way. Good if you do not like any negative stats.
Half-elf -- A cross between humans and elves can be good. With the strength of a human but the reflexes of an elf they can be a good choice of race for hunters.
Elf -- Elves are great at defending themselves. They, like the humans and sylvankinds, make great traders so often get discounts at merchants. Unless the merchant is dwarven of course. (Elf: A small, often mischievous fairy. Elf: a tiny, often prankish imaginary being in human form, supposedly exercising magic powers and haunting woods and hills; sprite.)
Dwarf -- Nearly as strong as a giant this race is short and healthy. A natural resistance to disease, poison, and elemental magics make them an interesting choice. They are not very good swimmers. They have very fast spirit return. * (Dwarf: An atypically small person.)
Dark Elf/Faendryl -- Dark Elves are the magical folk. With the highest base CS they make a decent choice for the spell slinging or wand waving empath. They also have a dexterity bonus. Unfortunately, they have extremely slow spirit return. Most dark elves are of dark skin but their are those of lighter skin as stated in official documents.
Sylvankind/Wood Elf -- Very popular among empaths. They are good at defending themselves and make good hiders like the elves and hobbits. (Sylvan: Characteristic of woods. Sylph: A slim, graceful woman or girl. Sylvan: One who lives in the woods.)
Halfling/Hobbit -- Short and quick on their feet. Able to dodge most maneuver attacks. They are not known for their strength or ability to take a hit. Their dexterity is the best you can get. Not all hobbits love tarts as many claim. You don't have to be either.
Can I choose to make my character a female if I, the player, am male or vice versa?
Yes, you can choose male or female for your character, regardless of your own gender.
What are my characters Attributes?
You have a limited range of hair colors, hair styles, eye color, and shades of complexion. Even though you may have chosen a character whose race usually has certain physical characteristics, you are free to choose your own as you see fit. I have to say, however, that it's a good idea to read the official documents on the races of Elanthia before choosing.
Which God should I choose to worship?
There are several Arkati to choose from such as the Pantheon of Liabo, Pantheon of Lornon, Neutral and Lesser Spirits. Liabo has been labeled the Gods of Light whereas Lornon has been referred to as the Dark Gods. There are two neutral Gods and string of Lesser Spirits and other immortals you can also choose from. Though there may not be much information on many of the Gods, you will find just enough to help you make your decision.
The Pantheon of Liabo - While generally thought of as the "good" deities, those deities included in this pantheon are merely those who recognize fealty to Koar.
Koar King of the gods; god of law, justice and loyalty

Lumnis Consort of Koar; goddess of wisdom and knowledge

Ronan Son of Koar and Lumnis; god of the night, sleep and dreams

Phoen Ronan's twin; god of the sun, summer and fatherhood

Lorminstra Ronan's sister; goddess of death, rebirth and winter

Oleani Consort of Phoen; goddess of love, fertility and spring

Kai God of strength, athletic prowess and combat

Eonak God of craftsmanship, labor and triumph over adversity

Imaera Consort of Eonak; goddess of nature, autumn and healing

Charl God of the oceans, storms and revolution

Jastev Son of Eonak and Imaera; god of the visual arts and prophecy

Cholen Jastev's younger brother; god of the performing arts and humor

Tonis God of speed, travel and thieves.
The Pantheon of Lornon - While generally thought of as "evil", these deities are merely those who have chosen not to recognize Koar as their king
Eorginia Self-styled "Queen of the Dark Gods"; goddess of darkness and tyranny

Ivas Goddess of lust, passion and seduction

Fash'lo'nae God of magic, forbidden knowledge and libraries

Andelas God of felines and hunting

V'tull God of war and blood lust

Sheru God of nightmares and terror

Mularos God of suffering and torture

Luukos God of death and lies

Marlu God of demons and destruction

Zelia Goddess of the moon and insanity
Besides these, there exist many lesser gods:
You can find and read about them here. Also, you may wish to take a look at the Constellations a representation of the stars of the four seasons.
In building up your character, you are encouraged to research a god that fits your character's personality, and come up with a background for your character. Come up with why your character chose to worship that deity and how he came to start worshiping him. Most deities have shrines around the town of Wehnimer's Landing, and almost all have an altar in the temple in Icemule Trace. If you have questions you can't find answered, ask on the message boards or find a fellow empath in the game wearing a symbol of the deity you, or wish to, serve.
Is it mandatory to worship any Gods?
Not at all. It is not a requirement but it could make for creative roleplay.
Which Society should I join?
There are two Societies to choose from, VOLN and the Secret Society known as COL. Now, I know i should not even mention the secret society's actual name due to a not so friendly visit from the assassins, but i think in this case, the Grand Poobah, will allow it...or will he? :shudder:
Who & What is Voln?
He is a Lesser God. His sphere of Power is Battle against the Undead. The Lord Voln has established a society for those who share his desire to release the souls of the Undead who are enslaved by Luukos. Individuals from all Races and Professions can be recruited into this society. Giants were the first to be recruited by Voln.
What is COL?
The Council of Light, A darker society, which is mainly benefits to ones self and not to a group. It's known to require special charges for its skills such as draining part of your magical essence and even darker means. So the benefits do not come without a great price. It might just be your soul! Although it is powerful because of this fact. You do have to retain a lot of secrecy when you are a member of CoL.
Do I have to join either Society?
There is no requirement to join but the benefits of either society can be quite useful.
Props and Verb Commands:
Ah yes Props! Items you use within the lands. A weapon, a staff, a stick, a tattered map, a scroll, or whatever else you can find. For example I use a scroll for when i am writing down events and such. I often jot down (log) the scene of a wedding i go to as a gift for the bride and groom. So I would remove a parchment or scroll from my container using the popular ACT and/or SMILE command sbefore actually taking it out of my container.
You will Type: ACT removes her quill and scroll to begin her writings

You see on screen: (Jypsie removes her quill and scroll from her pouch and begins her writings.)

Action: Jypsie removes a scroll from her pouch. Jypsie removes a quill from her pouch.
A map is another useful prop (You might be able to obtain one from Jack the Blacksmith) for when your group is unsure of directions to a hunting area. When you suggest to the group you will consult your map, you can actually remove it from your satchel and look at it (while looking at your real map off screen).
The SMILE command is very useful but you must be careful how to use it. The GMs as well as most Players frown upon the abuse of these commands.
Jypsie smiles to herself as she places her quill and parchment back into her pouch, closing it securely.

Jypsie smiles to herself as you see her place her quill and parchment back into her pouch, closing it securely.

Jypsie places her parchment and quill back into her pouch as you smile elatedly at her.
Which of these three sentences is abusing mechanics? The second and third ones are an abuse of mechanics because Jypsie is assuming YOU see her doing what she is doing but how does she know YOU saw her do it? Perhaps YOU were busy congratulating the bride and groom at the time. It is best to avoid this kind of usage of the ACT and SMILE commands. The third sentence is also wrong because, again, she is assuming that YOU see her doing it, not to mention she is saying how you feel...how would she know how you feel, right?

There are many other Verb Commands that can be useful and very helpful in your roleplay such as the HELP command. You can find a full list of them here.

NPC's, PC's and Critters:
Other ways to roleplay and have fun is interacting with NPC's (non-player characters) and Critters. Some players may think this is rediculous but i believe a good roleplayer uses the depths of their imagination and the things around them...
The shaggy mutt you see everyday in the lands, barks and you pet him making him happily wag his tail and such.. The old Trader who asks where his wife is? You can answer him by stating you have not seen her, or have never met her or know who she is. The gypsy that wanders the town is my favorite. She asks to tell your future, placing runes on the grounds and such. She is a fun NPC to interact with.

It's easy to find many roleplays, ideas and props within the lands and interacting with NPC's and PC's (Player Characters) is another of these ways to spice it up. Another useful thing to use to help you stay in character is the TIME and CALENDAR commands which tell you the exact time and date it is at that very moment, as well as giving you a list of the Calendar days, months and holidays of Elanthia (year would be about 5099).
ck ouut i thought it would be eaiser for you if i linked the pages here Just log in with your Username/PW and it will take you to the page you want.
Some of the Simu links will be updated above soon.
Now You are ready to jump into the mangler (Character Generator), place your stats and get your training...