Lady Jylia Luvley
Lone Rogue
8th day of Lumnea in the year 5097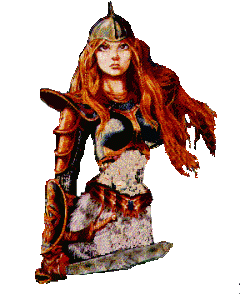 Mate: Loner
About You...Member of Paupers, I have no God of choice yet. I'm a loner for the most part, cept when i am hanging out with Solinarin (May the Gods rest his soul), Jerlilith or other family. I believe in family honor and friendships. I love to wander the wilds...I'm also a member of the the Robbing hoods :whistle:
Appearance: Extremely tall, slightly overweight (it's really muscle, honest!), long brown hair, hazel eyes, fair skin and a couple of serpent tattoos in certain areas. I hate snakes especially ones who try to take my twin siblings away from my mother... :grumble:
Family: I come from a very big family. My parents are Lady Brinnea and Lord Ettai, Grandparents Sabre and Jypsie. I also have several brothers and sisters, including new twins! and tons of cousins, aunts & uncles.
Home: Whenimer's Landing, I stay at Gramma & Grampa's Cabin for now, at least til i can save up enough for my own house.
Age: (not trainings) young at heart
Profession: Rogue, hunter, picker, prankster...
Favorite Hunting Area: anywhere i can beat the critters before they beat me.
Weapons: I have several..a hatchet, waraxe, sword, and skinning knife. 'm always prepared.
Accomplishments: I am the only giantperson i know who can stand on her head without falling over. <snicker>
Goals: To know everything there is to know on the History of the lands and to explore every nook and cranny in every town.
Comments/Quotes: oops! I missed. *Jylia just bit the dust!*

I am Jylia Luvley, Born in Wehmimer's Landing. Among My Parents, Lord Ettai and Lady Brinnea , I have 3 brothers and a sister and recently a set of twins. My parents have always been good friends but the marriage itself, was not working out so when i was somewhere near my 7th training my parents went seperate ways though they did remain friends. Not long after my Parents divorced, I moved to Icemule to cope with it. I have since then returned to the landing and enjoy exploring the wilds there.
I am a Lone Rogue of 21 trainings. I have neglected my trainings due to my recent explorations of the lands. I enjoy a good hunt just as much as the next guy but I also like to explore new areas in search of knowledge. My Best Friend is Straye Dafaen, whom you would often see me hunting or exploring with, but due to some circumstances beyond his control, his parents moved Straye to other lands unknown.
I continued to explore on my own and hunt the wilds when I met Sabre, a friend and brother of one of my grandmother's oldest friends, Lord Zapp. Sabre and I began hunting together and became close friends. He's a gentle soul with all the manners of a true gentleman, But don't let that fool ya'll, he is tough where toughness counts and i think he has his eye on my grandmother too <wink>.
I love my freedom and being a loner but nothing is better than family and friends.
Right now my main goal is to absorb as much knowledge and history as i can of our lands and to defend it against any who violate it.
UPDATE:
My Grandmother Jypsie and Lord Sabre eventually married in March of 5099. They bore a child they named Noki. He has been learning the ways of a Ranger and now on his 8th training has come to be quite good.
I, myself, have been spending much of my time helping my grandmother with her library, but I will soon return to my own rogue trainings in the guild before Dante and the others give me hell for not keeping up with my skills. :(
Back to Library | Back to Bios